Modular PedalBoard
The Ultimate Pedalboard -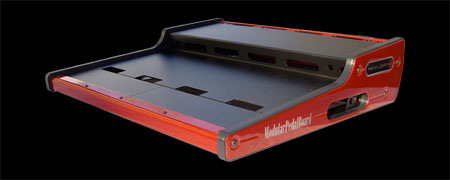 Now accepting orders -

It's taken a year to refine but at last - the Modular PedalBoard is back. This is definately not your average piece of plywood. It is currently available as a 20" wide module and a Mac Daddy full 35" wide model is on the way. 10" and 15" wide expansion modules are also scheduled to complete the line. With the options of 10", 15" and 20" you will be able to choose and combine modules to make a variety of board sizes just by adding an extension to your basic unit. So your pedalboard will be able to grow to accomodate your needs or even be downsized if you want to carry a smaller rig. You won't be locked into one size any more and have to start over from scratch if your needs change.

We're glad to have helped Pedalboard.com with the initial designs years ago. The new Modular PedalBoard has been developed with touring and studio pros as well as aspiring pros in mind. It provides a platform to incorporate your personal collection of pedals, the JuiceBox, SwitchBox, and a profession 8 channel patchbay which you can configure to fit your needs. It can even accommodate full size rack gear pieces such as a wireless receiver or effects units to create the ultimate pedalboard.

Features:

Light Weight Aluminum Construction
Ergonimic Layout of Equipment
Built-in Full Single Rack Spaces (upper space is 7" deep / lower space is 10 1/2" deep)
Built-in 1/3 Rack Spaces (also capable of mounting 3rd JuiceBox 002 and party equipment such as Littlelabs or FMR components)
Rack Spaces are interchangeable so you can use Pedalboard Modules in upper, lower or even both locations.

Specifications:

Size:

20 1/2" deep x 5 " high x 10", 15", 20" or 35" wide modules*. The 20" MPB's are currently available.
* (one 10" + one 20" = 30" wide board / two 20" modules = 40" wide board - etc. . )

Options:

Built-in Juicebox Power Supply
Built-in SwitchBox - Double and / or Quad Options
Built-in Patchbay for Mono / Stereo Outputs and Direct Inserts
In / Out Left and Right Side 1/4" Shielded Jacks with 3' cable and 1/4" right angle plug
Carry Bag and Custom ATA Hard Cases available

Cost:

Basic 20" Modular PedalBoard - $549.00

Consist of Main Frame Assembly, one Full Rack Space Module, two 1/3rd Rack Space Modules, two End Panels, and two
SwitchBox Blank Filler Plates.

Optional Accessories:

JuiceBox Power Supply w/ 10 Power Cables - $299.00
JuiceBox Rack Mounts - $14.00
Quad SwitchBox Module - $179.00
Double SwitchBox Module - $129.00
In / Out Left and Right Side 1/4" Shielded Jacks with 3' cable and 1/4" right angle plug - $17.00
10" wide "SwitchBox" Blank Filler Plate - $19.00
5" wide "SwitchBox Blank Filler Plate - $14.00
Full Rack Space Module - $19.00
1/3rd Rack Space Module - $19.00
1/3rd Rack Space Plate with cutout for JuiceBox 002, LittleLabs or FMR equipment - $12.00
AC Power Distribution Module w/ 15 amp circuit breaker and 5 AC outlets - $79.00
PatchBay Module w/ 8 Mono or 4 Stereo Outputs and Inserts - $89.00
Soft Bag for 20" Modular PedalBoard - $169.00
ATA Hard Case for 20" Modular PedalBoard - $359.00
Other Case Sizes Available - Quote upon request.


By request - some previous photos of the Modular PedalBoard.
Sorry some aren't great shots but it gives you some ideas . . .
2003 Summer NAMM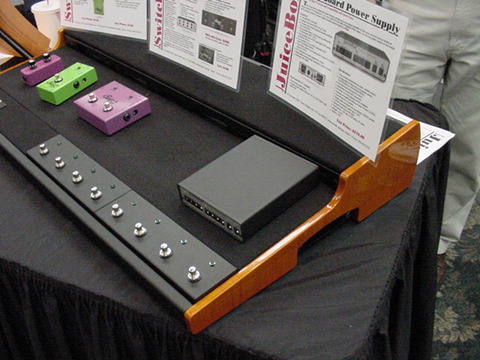 . . . . and yes - all running on one JuiceBox!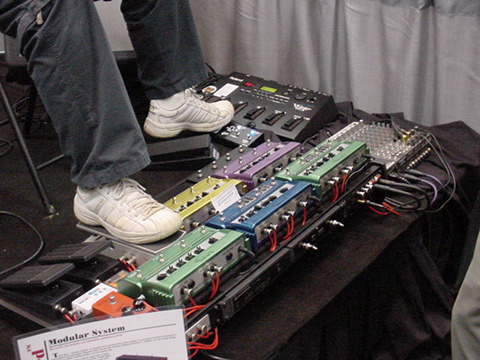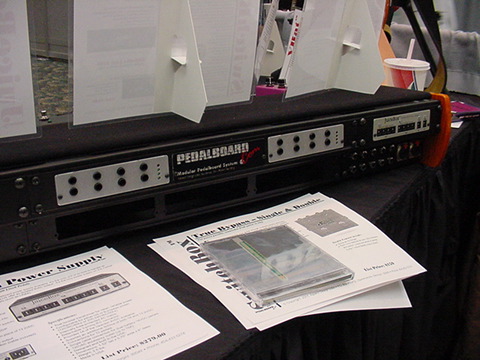 The back of this one has a single space triple rack plate dividing it into more sections. The 35" MPB has 2 full rack spaces in addition to 4 MPB modules spaces.

Aerosmith / Brad Whitford's Modular Pedalboard